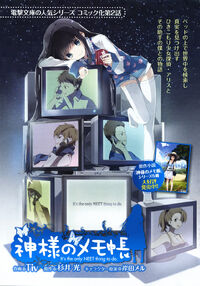 A manga adaptation of Kami-sama no Memo-chō (神様のメモ帳 Kami-sama no Memo-chō) was first serialized in ASCII Media Works' Dengeki Daioh in August 2010. The first volume of the manga was released on March 2011 under Dengeki Comics. The illustrations were done by Tiv while the story was still done by Hikaru Sugii.
Ad blocker interference detected!
Wikia is a free-to-use site that makes money from advertising. We have a modified experience for viewers using ad blockers

Wikia is not accessible if you've made further modifications. Remove the custom ad blocker rule(s) and the page will load as expected.